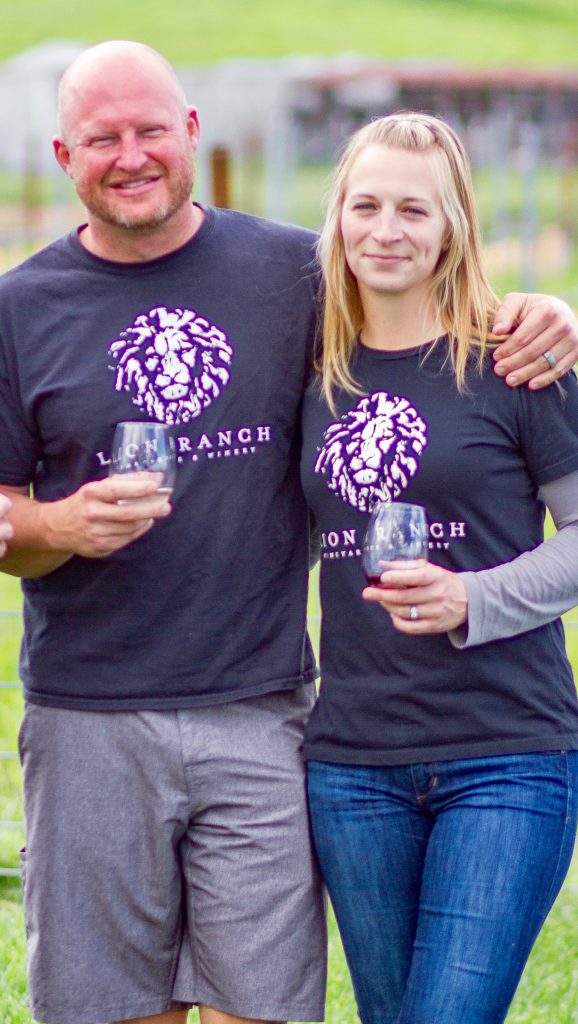 Hi folks– you want to know more about us? Here's the whole story. But more importantly, thanks for your interest, and we can't wait to meet you and share our wines with you."

Cheers, Kim & Todd
While living in San Francisco, our first big adventure together, we decided we wanted to dive head first into the wine industry. Moving to San Martin in 2009 with this goal in mind, we found a property that could be our home as well as our vineyard. Land work began immediately, clearing, leveling, understanding water flow, controlling weeds. Purchasing a tractor really drove home the fact that we were out of the city and on to our next adventure. Kim switched careers and began working for a local tasting room, apprenticing in the vineyard and winery at every opportunity. While Kim gained the "hands on" experience from grapevines to sales, Todd began flooding his brain with grape growing and winemaking information, reading textbooks, articles, and blogs. Finding ourselves in a welcoming community of farmers and winemakers, we participated in study groups based on winemaking education courses. Hearing experiences from our local experts, we quickly learned much about the industry and process.
Traveling to France in 2009 and touring from the Cote d' Azure to Provence to the Rhone to Lyon, we fell completely, head over heels, in love with the Viognier grape, visiting Condrieu and appreciating all that it could offer. For nearly two weeks we had a daily 'happy hour,' tasting some of the best Viognier in the world, complemented by fresh bread and french cheese. Coming back stateside we began the painstaking work of tasting every domestically-made Viognier and many other white Rhone varietals. An amazing dinner in the Mission district of San Francisco with friends included our first taste of single varietal Grenache Blanc–and again, love at first taste.
Our original estate vineyard was planted in 2011. We tended every single plant of our 5 acre property with our own hands, with occasional help from willing family and friends. All 4000+ plants were handled repeatedly as they were trained, pruned, trained, pruned, over and over. A true "labor of love," raising grapes takes a lot of determination, commitment, patience, and backbreaking labor. Even in our glorious, Mediterranean climate, it was hot, dusty, dirty work…with beautiful, delicious rewards.
We acquired another property in 2013 allowing us the space to create the wines we have to share with you. Just one-third mile south of the original vineyard site, the growing conditions are prime, with the land having been fallow for a number of years. Preparations have already begun for planting another 4000+ vines of Rhone varietals; this time they'll be red. Similar in soil and climate, the terroir at the new property is equally suitable for grapevines, as it, too, was once part of the large land tract previously known as Lion Ranch. We have been very diligent in creating an atmosphere in the vineyard which is sustainable for both our grapes and our family, including our dogs—we insist upon the highest quality grapes, but refuse to compromise by introducing harsh chemicals or pesticides.
Onsite tasting began in summer of 2015. Our newest vineyard of red Rhone varietals was planted in spring of 2016.